Josh Shriber - Jammin' With You! Director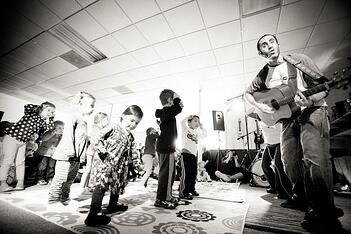 Josh Shriber loves music and kids! When Josh was three years old, he couldn't keep his hands off his grandmother's piano — so she moved that piano to his house. His mom searched all of Worcester, high and low, to find him a piano teacher at sucha young age. After some time, she finally found the only teacher in area who would accept a student so young, for which Josh is eternally grateful!
Josh received his first guitar for his 13th birthday and began teaching himself from songbooks of his favorite musicians. In college, Josh started his first band — Suspect — which toured the east coast alongside bands such as The Samples, and State Radio. After graduating from Wheaton College in 2000, Josh began giving piano and guitar lessons and songleading in Boston area syanagogues to support himself while playing in the band. His popularity as a teacher and song leader grew throughout his local towns of Newton and Wellesley, and thus, Jammin' With You! (JWY!) was born.
JWY has now expanded to offer in-home music lessons on to over 500 families weekly from Boston to New York. JWY! also owns and operates a 4000 sq ft program and performance center in Wellesley, MA. Josh is now teaching and performing there 5-6 days a week. Since opening the center in 2009 Josh has created 2 unique curriculum, JamBaby and JamKids. These interactive and movement based progrmams are powered by the music of Josh and the Jamtones. Check out Josh and the Jamtones! All the members of the Jamtones are JWY! musicians and teachers.
Whether its with the Jamtones, at the program center, in a school or in Boston area synagogues Josh has made a career working with thousands of kids each year. Josh is the proud dad of 2 beautiful girls!