Nick Collora
Guitar Lessons
Drum Lessons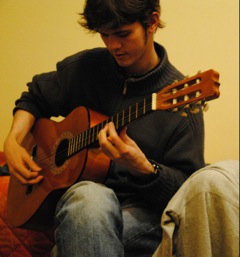 Nick Collora began playing trumpet at age 9, then switched to the guitar and drums at age 12 to play rock music. Nick soon became interested in Jimi Hendrix, Eric Clapton, Led Zeppelin, and many other classic rock bands. Nick began listening to more jazz and fusion, and became interested in musicians such as Charlie Parker, Wes Montgomery, Django Reinhardt, and John McGlaughlin's bands Mahavishnu Orchestra and Shakti. Nick studied for over 8 years with graduates of the New England Conservatory Jazz Program, and played in various jazz ensembles and bands.
Nick became very interested in Flamenco guitar and Jazz Manouche, as well as Afro-Latin and African styles, at which point his interest in hand drums and full drum set playing truly expanded. Although Nick is interested in all types of world music, he always maintains a hand in rock and folk. Nick has played in a fusion-of-styles band in Morocco with musicians from Morocco and others in Europe, and eventually had several performances in Rabat, Morocco.
Nick has taught guitar around Boston to students of all ages for several years. In lessons, Nick emphasizes the notion that knowledge of music theory can exponentially expand a student's capacity for musical growth. The most important part of the creative music process for Nick is writing, where he can fuse all styles together and put his soul into something personal.