Rob Morrison
Piano Lessons
Guitar Lessons
Ukulele Lessons
Drum Lessons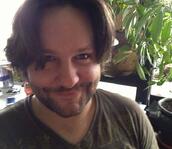 Rob Morrison started studying music as a child. He began studying guitar at nine and later taught himself piano and drums. In school, he studied music theory extensively. His talent emerged early and often, and his adaptability and extensive knowledge and range allowed him to play in many bands, performing in venues all over New England. Rob has been a member of jazz, blues, soul, improvisational, rock and hip-hop groups. In addition to playing piano and guitar, Rob also plays bass, banjo, dobro, and harmonica.
Currently, Rob is playing in the band Stroamata, which has many recordings out already. Stroamata performs in the New York area and consistently pumps out music! Rob also plays organ and rhythm guitar with the established surf rock band, the Coffin Daggers. Outside of music and teaching, Rob enjoys comedy, movies, travel and cooking."


What parents are saying about Rob:
"Our daughters have taken to piano instruction very naturally. They really enjoy their lessons immensely and immediately have taken to the idea of practicing, not because they have to, but because they have had such a good experience in the lesson, and are excited to keep on engaging with the process of playing the piano. They took [to] Rob right away and liked his warm, friendly, and respectful demeanor. We have been so happy with how the beginning process of learning the piano has so clearly already enriched all of our lives."
"Rob is a very good teacher and keeps the lessons fun but focused. Yay Rob!"
"Rob is a great teacher, I have recommended him to several of my friends."