ABOUT US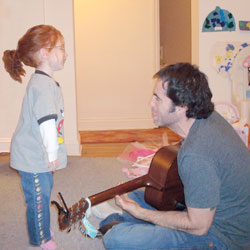 Jammin' With You! is the coolest and most unique music school around, providing quality in-home music lessons throughout Boston and the Metro West area. We offer a wide range of instrument instruction, including piano, guitar, bass, drum, saxophone, voice and violin lessons.
What makes our school so unique is that your home is our school! Our teachers come to you to teach you and/or your children, all in the comfort of your home. We also provide a family-friendly Program and Performance Center, located in Wellesley, MA. Our center is a popular destination for rockin B-day parties along with our sold out JamBaby and JamKids classes.
Currently, we have over 500 amazing and talented students, residing in the following towns and regions: Arlington, Auburndale, Belmont, Boston, Brighton, Brookline, Cambridge, Chestnut Hill, Dedham, Dover, Dorchester, Framingham, Jamaica Plain, Leominster, Natick, Needham, Newton Center, Newton, Roslindale, Somerville, Stow, Waban, Wellesley Hills, and Wellesley. This is by no means the limit to our geographic capabilities - we continue to seek more amazing teachers in varying locations to provide in-home music lessons.
Want to take your music lessons to the next level? Have you wondered what you can do to integrate one-on-one music lessons into a band setting? Well wonder no more! Learn how to Jam out in a real band-setting in one of our most popular after-school programs, "JamBand!". For the younger set, our most popular programs, "JamBaby and JamKids", are filling up fast! Make sure to read more and fill out an inquriy on our Programs page!!
We have a fantastic teaching team to guide you on your musical journey. All of our teachers are young, fun, professional musicians playing gigs in some of the best music venues in the country! More importantly, our teachers are excellent with children, teens and adults. Our teachers have been called the best in-home music instructors in all of Massachusetts! Read more about each of these amazing people on our Teachers page.
Learning to play music should be fun! Our goal is to share our love of music and make it a lifelong source of joy and pleasure for all of our students and their families. We also want to create a real sense of community amongst our families, letting all of you share in our love of music with each other. Our company's name is exactly what we hope to be doing in the coming weeks, months, and years – jammin' with you!